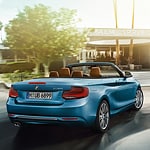 Available in three coupe trims and one trim for a convertible, the newest BMW 2 Series is among the most popular in both vehicle genres. When you are keen to buy one for yourself, you can anticipate getting a number of features that let you drive safely yet with impressive style.
You can custom order your new BMW 2 Series coupe or convertible in one of seven different exterior colors, for example. Choose from vibrant orange to dark black as well white, red, blue and other colors. Also enjoy knowing that your safety and that of your passenger is a priority with the series' safety designs. It comes with integrated features that prevent accidents in slippery road conditions, for example. It also has a stability control system that is designed to minimize rollovers.
Experience the convertible and any of the coupes in person. Test drive any of them in the new BMW 2 Series today.